Career Changers
Changing careers doesn't have to be a daunting proposition. With the support of a quality organization, it can be an easy transition when it's time for the next chapter in your career. 
Independence, growth, challenge, work/life balance, and the opportunity to establish enduring relationships with the clients you serve have all moved to the forefront on your list of priorities....but is it too much to ask for?  Not if you consider a career as an independent financial representative for Northwestern Mutual.  Experience the independence, rewards, and personal satisfaction you are seeking, while having complete access to the extensive resources of Northwestern Mutual.  A career with us can be an exciting and rewarding change in your life.
Many attorneys, bankers, accountants, educators, and military personnel have two things in common … they enjoy helping people and have transitioned into successful careers as financial representatives with Northwestern Mutual.
Integrity. Consistency. Camaraderie. Determination. These qualities are found in those who have served in the military. And they are also some of the elements of success we look for in our financial representatives and leaders.
---
Please take a moment to read Career Changers, the real-life stories of people just like you who made this exciting and rewarding change in their careers and lives.
Mitchell D. Letwin
Financial Advisor, Long Term Care Specialist
Born into an entrepreneurial family, Mitchell Letwin learned the value of hard work at an early age. When his father had the option to sell the family business in 1995, Mitchell decided to make a career change. Having looked at many different jobs, he kept thinking about how much influence his agent, Paul Pigman had on him. Not only was he his advisor, but also became a friend. "Paul made me realize the value of this career and industry. I saw what he did for me in my time of need and knew that I too wanted to make a difference." In November of 1995, after being a partner in a children's clothing business for several months, Mitchell received a call from a recruiter in the Pittsburgh Network Office. It was the day that changed his life. "Being a financial representative gave me the ability to be my own boss and provide services that benefit clients and the well-being of their families. The best part of my career here at Northwestern is that I know I am helping friends. Clients become friends and that is the strongest relationship that I never knew I had." Now approaching his 16th year with Northwestern Mutual, Mitchell credits his success to hard work and loving what he does. "I love waking up in the morning and coming into work." It is the greatest feeling."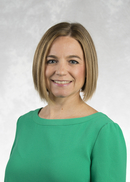 Chief Development Officer
Office 412-288-2324