Career Changers
If you're looking for more fulfillment in your career, you've come to the right place. 
Most financial professionals didn't graduate from school with a degree in finance. In fact, a survey from Investment News highlighted that nearly 52 percent of advisors made a career switch to the financial advice business. That number climbs to 70 percent for females.1
Although many professionals change careers into financial planning, they all have certain things in common… they want to make an impact in their career and have an incredible drive to make it happen.  With the support of a quality organization, it can be an easy transition when you have that drive to enter that next chapter in your career.  
A career as a financial representative with Northwestern Mutual can give you the interdependence you are looking for, while having the support of Northwestern Mutual's extensive resources available to you. A career with us can be an exciting and rewarding change in your life.Independence, growth, challenge, work/life balance, and the opportunity to establish enduring relationships with the clients you serve have all moved to the forefront on your list of priorities....but is it too much to ask for?  Not if you consider a career as an independent financial representative for Northwestern Mutual.  Experience the independence, rewards, and personal satisfaction you are seeking, while having complete access to the extensive resources of Northwestern Mutual.  A career with us can be an exciting and rewarding change in your life.  Many attorneys, bankers, accountants, educators, and military personnel have two things in common … they enjoy helping people and have transitioned into successful careers as financial advisors with Northwestern Mutual.
Watch the videos below to hear why career changer DeShawn Chapman decided to leave a successful engineering and become a financial advisor, as well as learn why a career at Northwestern Mutual might be a good fight for your next career. 
---
Meet Some of Our Career Changers
Long Term Care Specialist
mitchell.letwin@nm.com
My Networks:
Born into an entrepreneurial family, Mitchell Letwin learned the value of hard work at an early age. When his father had the option to sell the family business in 1995, Mitchell decided to make a career change. Having looked at many different jobs, he kept thinking about how much influence his agent, Paul Pigman had on him. Not only was he his advisor, but also became a friend. "Paul made me realize the value of this career and industry. I saw what he did for me in my time of need and knew that I too wanted to make a difference." In November of 1995, after being a partner in a children's clothing business for several months, Mitchell received a call from a recruiter in the Pittsburgh Network Office. It was the day that changed his life. "Being a financial representative gave me the ability to be my own boss and provide services that benefit clients and the well-being of their families. The best part of my career here at Northwestern is that I know I am helping friends. Clients become friends and that is the strongest relationship that I never knew I had." Now approaching his 16th year with Northwestern Mutual, Mitchell credits his success to hard work and loving what he does. "I love waking up in the morning and coming into work." It is the greatest feeling." Mitchell D. Letwin has spent 11 years at Northwestern Mutual. He was born and raised in Pittsburgh, and now currently resides in the Fox Chapel area.  Mitchell Letwin thrives on working with small business owners, lawyers, doctors, and other successful people in creating solutions for both business and personal needs.
---
Brandon Gilbert Fisher
Financial Advisor
brandon.fisher@nm.com
My Networks:
Brandon Fisher began his career in the food and beverage industry as a representative for a large national liquor company.  In 2011, he decided to make a career change and joined Northwestern Mutual.  Now, as a Financial Advisor, Brandon specializes in the medical market, the oil and gas industries and young families. His goals for his clients are based on the reality that life is constantly evolving, changing direction and presenting both new obstacles and new opportunities.  Consequently, the approach to your financial security cannot be static; as your life changes, so will your needs and goals. Brandon has access to the most cutting-edge approaches, practices and resources to help establish your financial security now and in the future.  With the highest degree of integrity, honesty and trust, along with outstanding standards in professional service, Brandon and his team are committed to providing each of his clients strong financial solutions tailored to their particular need and goals.
---
Wealth Management Advisor
Anthony is a graduate of John Carroll University with a Bachelor of Science degree in Finance.  Following college, Anthony worked as a financial analyst with PNC Bank. He later joined Northwestern Mutual in 2002 as a Financial Representative and started building a financial security practice.  Anthony is a Wealth Management Advisor and is credentialed having obtained his Chartered Life Underwriter (CLU®) designation as well as his Certified Financial Planner (CFP®) certificaiton.  His work with owners of closely-held corporations involve business succession strategies, key-person and executive compensation packages, as well as qualified-retirement plan advisory services.  Anthony also helps individuals and families that desire a comprehensive financial planning relationship.
Anthony is active politically on behalf of the life insurance industry.  He is a past-president of the Pittsburgh chapter of the National Association of Insurance and Financial Advisors (NAIFA) and a member of the Financial Planning Association (FPA).  In addition, he is the Pittsburgh office's Government Relations Delegate for Northwestern Mutual.  Anthony, his wife Sharon, and their 3 children reside in Upper St. Clair.  They are actively involved with Girls Hope of Pittsburgh and the United Way.
---
Jon L Amodeo
Field Director
My Networks:
Jon graduated from Pittsburgh Central Catholic HS in 1989 (co-captain of the first state championship football team in PA). After high school, he attended Thiel College, majoring in business and marketing. While he was there he was a 4 year letterman in football and golf. 
Prior to Northwestern Mutual, Jon spent time working on a marketing team with Anheuser-Busch Nationally. He then started with Schering-Plough Pharmaceuticals, with the launch of Claritin as a Sales Representative. He was promoted multiple times through sales management, managed care, trade, marketing and senior sales management; and lastly with Meda Pharmaceuticals. 
Jon came back to NM in Aug of 2011. Quickly hit pacesetter 40, Second 60, 100 lives, Million Dollar Round Table in 2013-2015 and Lives Leader Summit. Jon won the East Region #1 FR in the Gold.  Jon is now a Field Director who is building a dynamic team in Monroeville PA.  Jon is married to his wife, Miriam, his best friend that he met in 7th grade.  Jon and Miriam have two children. Jon is an avid golfer and member of Oakmont Country Club, and spends a lot of his time on multiple committees for Pittsburgh Central Catholic, Thiel College, Oakmont Country Club and coaching everything his children play.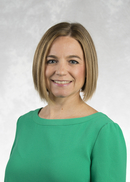 Chief Development Officer
Office 412-288-2324
My Networks:
Peggy is currently our Chief Development Officer, harboring responsibilities for the Core Four with an emphasis on recruitment and development.